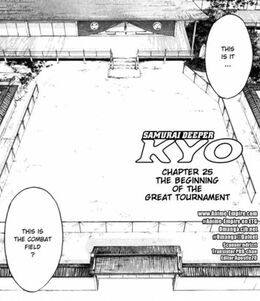 It is a tournament indeed to celebrate Ieyasu birthday. 
Rules
The winner will be rewarded with 1 million ryos and 1000 Goku (cold units of Japanese currency) and is eligible for civil service. Not only that, regardless of a partcipiant's criminal's profile as long as he get first place, his profile gets erased. Also, the first place will be granted the chance to personal meet and be awarded by Ieyasu (for this reason Yukimura asks Kyo to participate at tournament: it will surely be many suspicious types and nobody would notice the presence of Demon Eyes Kyo. In this way he can chop off the Shogun's head because any criminal fault will be nulled). Every participants must use the wooden baton to gain victory by making the opponent Unconscius, collapse or scream "forfeit". If the opponent is someshow killed the participant will be immediately disqualifed. The participants will be divided into 8 groups (A,B,C,D,E,F,G,H). The eight victors from each group will procedeed to final round.
The true purpose
The true purpose of this tournament is eliminate all the opponents of the Tokugawa Clan. Infact all those who lost the fight and do not pass the turn are executed and at one point the wooden baton are replaced by normal swords. The tournament in truth was indeed by a Fake Ieyasu Tokugawa (the true Ieyasu appears only at the end to fight against Kyo and to talk to Yukimura).
Participants and fights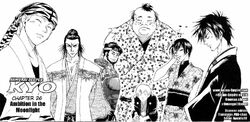 - Yukimura Sanada (with the identity of "Yukino")
- Nobuyuki Sanada (with the identity of "Animal Mask")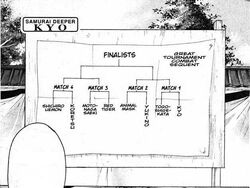 - qualifying matches:
Kyo vs Kinsaburo and his group
- Match 1
Kyo vs Shigetaka Togo
- Match 2
Animal Mask vs Yukino
- Match 3
Red Tiger vs Motonaka Saeki
- Match 4
Shichiro Uemon vs Koretsu
- Final Match
Yukimura and Kyo vs Ieyasu (not concluded)