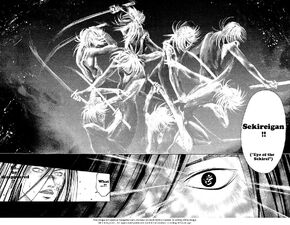 The
sekirei
(
wagtail
in English) is a small, clumsly-looking bird that plays an important role in the creation myth of the Ainu, Japan's indigenous people living mostly on the northern island of Hokkaido. It is seen as the messenger of the god Kamui. Kamui instructed the sekirei to creat the earth by flapping its wings to part the waters and stepping on the island to flatten it. So a sekirei is symbolic of someone who may be physically weak, but works hard and has a lot of heart.
Overview
An advance Mibu technique that alters time relative to user. It is temporal displacement through non-linear projection. The user sends an image of themselves forward and backward in time then projects themselves into that image. This power enables them to be in more than one place at the same time for time bends to accommodate their wishes. Beginners generally start out with two temporal clones and gradually move up from there.
It is essentially a training technique whose main purpose is speed therefore is contains many different aspects. The second one involves controlling the speed in which time flows around the user. User doesn't actually move any faster (rather, they are slowing down Time relative to themselves, and can make themselves so "fast" that the rest of the world appears to be moving in slow motion.) users can also speed up time relative to others, this ability is greatly limited however, allowing user to focus on only one person at a time effectively stopping them in time.
Description
Seikireigan gets its name from the fact that it is imprinted onto an individual's eye. Because the technique was imprinted there are certain limitations that come with it. No matter how strong the bearer is the technique can only be used a certain number of times a day this number is usually determined by the person who imprints the technique onto them. Using it more than that can cause death. Which is where the symbolism of the Sekirei comes from the strength of the Seikireigan doesn't conform the power of the technique itself but what the bearer does with limit number of times they can use it. Using the Sekireigan also causes the user's sight to deminish. It is noteworthy that having the Sekireigan in one eye leaves the other unused eye unharmed and can stop the user from dying after using it more than five times (although the user will still be physically exhausted).
Users
Gallery