A mystical phenomenon by which a person directly experiences their own higher consciousness, and in that moment of heightened awareness one is directly open to the energy generated by all living things, the sum of all creation and its flow throughout the universe. Satori requires no conscious activation and the user simple "sees" through a person's heart. Even without speaking aloud user's able to know what any person is thinking in other words they're the best thief. Rather than penetrate a mind, it's actually more like naturally receiving thoughts. User hears whatever a person is thinking of saying as actual speech. Strong thoughts are like shouts, unfocused ones are like whispers. Not everything is sent over. User only knows what a person is thinking on the surface they can't hear anything deeper than that.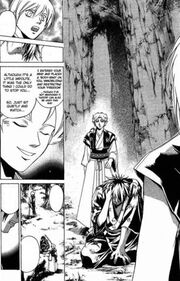 Satori can be used in many ways such as entering a victims mind and placing a body-bind on them immobilizing and restricting their freedom.
Note
Satori can be considered

 an "evolution" of the Telepathy
Ad blocker interference detected!
Wikia is a free-to-use site that makes money from advertising. We have a modified experience for viewers using ad blockers

Wikia is not accessible if you've made further modifications. Remove the custom ad blocker rule(s) and the page will load as expected.