Saizo Kirigakure



Gender

Male

Race

Human

Debut

Volume 4, Chapter 26

Occupation

Ninja, Swordsman

Faction

Age

Unknown

Height

175 cm

Weight

60 Kg
Kirigakure Saizo
 is one of the Sanada
Jyuuyushi
and also a very good ninja.
Appearance
He has black hair. He wears red ninja suit, red bandage and black foulard 
Personality
Despite his devotion to Yukimura, Saizo is often exasperated by his master's casual attitude and often worries about him. But he respects and fears Yukimura's abilities and ultimately will do anything he says, and his selfless devotion has also earned Yukimura's respect and caring.
Story
He has been devoted to Yukimura since his childhood, and will even turn against other members of the Sanada clan to protect his master. He has even been critically injured defending Yukimura in battle.
Ability
He is an expert Ninja and a skilled Swordsman (he use a dagger, see below and a sword)
- Sleeping gas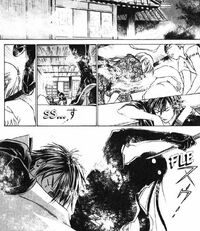 It is used to sleep and quickly kill enemies
- Fog (or Mist)
Saizo utilize a sort of "fog" to leave battlefield (similar to 
Hishigi
and 
Tokito
)
Anime
In the anime adaptation, it is strongly implied that Saizo harbors a romantic crush on Yukimura.