Nobuyuki Sanada



Gender

Male

Race

Human

Debut

Volume 4, Chapter 30

Age

38

Occupation

Swordsman

Family
Sanada Nobuyuki
is
Yukimura's older brother
Appearance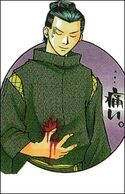 He has blu hair (like his brother) and wears a green battle suit or a battle armor (see profile photo)
Personality
He is very devoted to his clan. Infact he joined the Tokugawa to protect Yukimura family after the battle of Sekigahara. 
Story

He appears in books 2 and 4. He joined the
Tokugawa Clan
at
Battle of Sekigahara
, seeming to betray his brother, which generated much animosity between the siblings. He and Yukimura fight at the 
Shogun Tournament
, and it is later revealed that during the fight he was actually trying to teach Yukimura a lesson. Nobuyuki never betrayed the family as Yukimura thought; he joined the other side so that no matter who becomes the Shogun, the Sanada Clan would be on the winning side and survive.
Since Nobuyuki and Yukimura both give their ages as thirty-seven and appear virtually identical, they may be twins.
Anime
In the anime, he has defected from the Sanada family to become the loyal retainer of Benitora, who stopped him from committing seppuku after his failure caused the Tokugawa clan a major strategic defeat just before the battle at Sekigahara. He fights his brother in the tournament at the capital but loses. In the end of the show, he continues to fight by Benitora's side as his lieutenant even against his own family when the other clans rebel against the Shogunate
Techniques
Using fast movement from all sides it causes confusion and sows the seed of doubt in the spirit of the opponent.
Gallery