Jimon



Gender

Male

Race

Human

Debut

Volume 1, Chapter 3

Age

No information

Occupation

Yojimbo
Jimon
is a minor character and is one of the first to reveal
Demon Eyes Kyo
Appearance
He has blond hair and blu eyes. He wears black kimono and a green foulard
Personality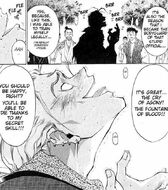 He is a sadistic character. He loves to kill. For this reason he became a
Yojimbo
Story
Kyo
shamed him at the Battle of Sekigahara by not killing him and by looking down on him like he was worthless trash. He took a job as a yojimbo to a local Daikan and killed 107 people to perfect his technique and be ready to face Kyo again to regain his honor.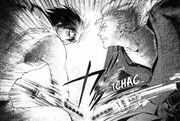 Kyo challenged him to a drawing match, although Kyo's sword was almost twice as long and had no sheath.
Death
Kyo allowed Jimon to draw first, then easily kills Jimon by cutting him almost in half.
Techniques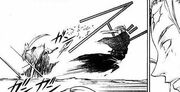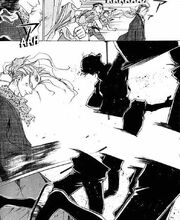 Jimon is a skilled swordsdsman and has a superhuman speed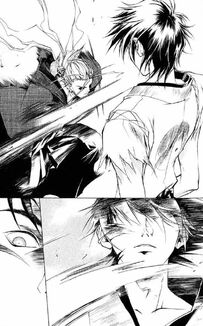 A move that allows him to draw his sword and strike three times in the blink of an eye.
- Iai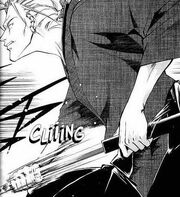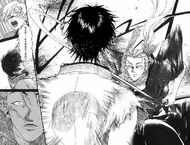 The Iai strike is a technique based of the power to unsheate the sword. During the unsheating, the speed increases thanks to the sheet
Gallery