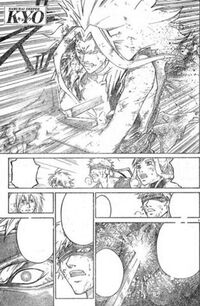 The Aka no Ou infuses a large quantity of ki into the leader of the
Taishirou's
heart
. Thus the energy that now makes up the leaders heart becomes incredibly dense. By stabbing himself in the heart the Taishirou leader releases that energy speeding up the heat far beyond anything drugs could mimic.
As a result his body is becoming super oxygenated, vitalizing his muscles, improving his metabolism, and even improving his brain functions. The user dies soon afterward as this increases and focuses the effects of the death disease on the heart causing it to quickly disintegrate.
Ad blocker interference detected!
Wikia is a free-to-use site that makes money from advertising. We have a modified experience for viewers using ad blockers

Wikia is not accessible if you've made further modifications. Remove the custom ad blocker rule(s) and the page will load as expected.