Bantoji Brothers


Vital statistics
Title
Bantoji Brothers
Gender
Male
Race
Human
Faction
Bandits
Health
Healthy
Level
Super Strenght and Speed
Status
Deceased
Location
Sengen Village
They are two bandits with a bounty on their heads
.
Their names are
Banji
and
Toji
Appearance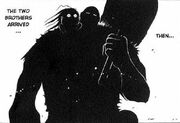 Toji (the older brother) is dwarf and in battle uses a sort of blades
Banji (the younger brother) is enormous, he chews an octopus and in battle uses an hammer made with a barrel. 
Story
They wanted to prey the Sengen village but they are killed by Demon eyes Kyo (using an imperfect Mizuchi)
Abilities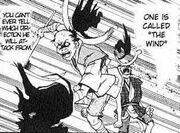 Toji is called "the wind" because he has a superhuman speed (the opponents can't ever tell the direction he will attack from)
Banji is called "Iron Stick" because he has a superhuman strenght (he can destroy rocks with his hands)
Gallery
Ad blocker interference detected!
Wikia is a free-to-use site that makes money from advertising. We have a modified experience for viewers using ad blockers

Wikia is not accessible if you've made further modifications. Remove the custom ad blocker rule(s) and the page will load as expected.