Anthony



Gender

Male

Race

Mibu

Debut

Volume 30, Chapter 237

Age

Unknown, likely in his 20's

Occupation

Yuan's imperdial guard, Needles master

Height

No information

Weight

No information

Blood type

No information

Birthday

No information

Family

Julian (father)

Ian (mother)

Anri (older brother)

Yuan (older brother)

Ana (Younger Sister)

Angelica (Younger Sister)

Yurian (Younger Brother)

Kilian (Younger Brother)

Erian (Younger Brother)

Marian (Younger Sister)

Lilian (Younger Sister)
Anthony
is one of 
Yuan
 Imperial Guards and
he is Yuan first younger brother. 
He reveals the potential force within 
Hotaru
, 
Shinrei
, and 
Benitora
Appearance
He has white hair (inherited from his father, Julian). He wears a black sleeveless suit, black pants and is shoeless. He equips needles
Personality
He is very attached to his family and wants to protect her. He consider Hotaru a family member (infact he didn't want to fight against him neighter Hotaru fought against Yuan). 
Story
He first appeared in volume 30, in which easily defeated both 
Tokito Imperial Guards
 (except
Spade
whom was absent and
Hotaru
,
Shinrei
, 
Benitora and Akira. 
He didn't want Hotaru fought against Yuan so he fought him. He was defeated and reveals the 
potential force 
within 
Hotaru
, 
Shinrei
, and
Benitora
 (except
Akira
, because he has reached the "human limits")
Techniques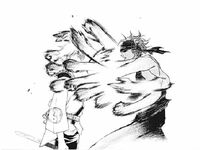 He is an needles master
He is also an expert in martial arts
He is able to speak with his sword
They can be used as weapons, to Power Up, to Shut Down the opponent's body, to heal and to unlock another person's latent power.
2) Trasformed State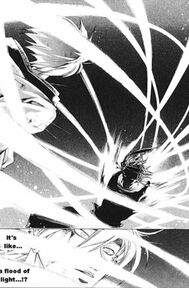 While in his transformed state, Anthony fires off destructive light beams by swinging his arms. This attack is spammable. It resembles One Piece's Pika Pika no Mi (Borsalino)
Gallery
Ad blocker interference detected!
Wikia is a free-to-use site that makes money from advertising. We have a modified experience for viewers using ad blockers

Wikia is not accessible if you've made further modifications. Remove the custom ad blocker rule(s) and the page will load as expected.